Guidelines for submissions
We are Each Other's Bread and Wine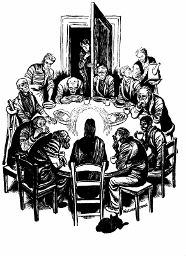 Any sermons or homilies that are submitted must be your original work and must actually have been preached (note the date and place on your manuscript). Some questions to consider:
How does the feast we share nourish our passion for peacemaking?
How does the ministry of Jesus and his work on the cross inspire us to become peacemakers?
How do our active lives of working for justice and making peace call us back to the Lord's Table?
Length should not exceed 3000 words. If any quotations are used, please include complete bibliographical information.
Original poetry and art on the themes of communion and peacemaking are also invited.
By submitting material, you are granting permission for your work to be edited and posted online. Send your electronic document to the editors by writing to breadandwine -at- bridgefolk -dot- net.
Please send a brief description of yourself, including identifying your faith tradition.