Bridgefolk 2007
Who Do We Think We Are?
Catholics and Mennonites Growing Together in Christ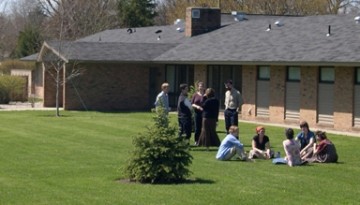 Associated Mennonite Biblical Seminary
3003 Benham Avenue
Elkhart, Indiana 46517
July 26-29, 2007
Now available:
Issues of identity are never far below the surface when Mennonites and Roman Catholics dialogue and work together. We know we are called to share and express more fully a common baptismal identity in Jesus Christ, yet differing baptismal practices have marked our historic divisions. Meanwhile, even when Roman Catholics and Mennonites of the past thought of themselves as quite divided, they actually shared many identity-shaping experiences, especially as they sought to make a home in North America – in some places, side-by-side.
Northern Indiana is one of those places. It is the home of sizeable historic communities of both Mennonites and Roman Catholics. As such, it offers a rich opportunity to reflect on our shared baptismal identity as Christians in relation to other identities. Organized around the theme, "Who Do We Think We Are?" this year's Bridgefolk conference will explore the interplay of our primary loyalty to Jesus Christ in relationship to citizenship, ethnic identities, and the "double belonging" of those seeking in various ways to be both Catholic and Mennonite.
Complementing conference sessions will be tours to such local sites as the Loretto Chapel at St. Mary's College, the Basilica of the Sacred Heart at Notre Dame, and Menno-Hof, an information center in nearby Shipshewana that teaches visitors about the faith and life of Amish and Mennonites. Options for afternoon service projects will also be available. Hosting the conference, which will take place on the campus of the Associated Mennonite Biblical Seminary, will be the Michiana chapter of Bridgefolk.
The Mennonite-Catholic Theological Colloquium will also hold a conference at Notre Dame, immediately following the Bridgefolk conference. Mennonite and Catholic scholars will take up issues of history, theology and peacemaking as they emerge in Called Together to Be Peacemakers, the final report of the international dialogue between Catholic and Mennonite representatives from 1998-2003.