The Bridgefolk Story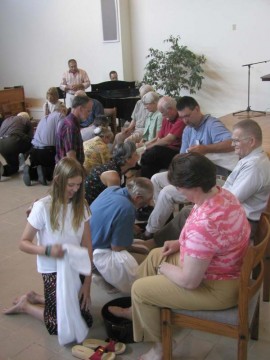 Each summer since 2002, Bridgefolk has gathered Mennonites and Catholics from across Canada, the United States and a few other nations for deep-level conversation and shared worship. We have sung together, prayed together, shared our stories and our spiritual pilgrimages, explained our differing traditions, washed each other's feet, and shared our anguish at being divided at the communion table.
It has been an encounter that has left all participants changed in some way. For many of us it has truly seemed like a miracle, seeing something that looked so improbable just a few years ago become a regular event in our lives, something we look forward to from year to year.
What is perhaps most remarkable is that all this has happened without any advance planning and with almost no organizational support. Bridgefolk has emerged slowly but surely from the personal experiences of the people involved, both Catholics and Mennonites. Many had assumed they were alone in being attracted to the other tradition, but as they have discovered others experiencing this same pull, they have jumped at the opportunity to meet fellow pilgrims and hear their stories.
The first meeting of Mennonites and Catholics took place at Laurelville Mennonite Church Center in western Pennsylvania in August 1999. The gathering was convened by Gerald Schlabach, then a member of the theology faculty at Bluffton College (Ohio), who was joined by Ivan Kauffman, a Catholic who had been a Mennonite before 1968 and who lives in Washington, D.C., along with Weldon Nisly, pastor of Seattle Mennonite Church (Washington), and Marlene Kropf, a staff person for the Mennonite denomination and faculty member at Associated Mennonite Biblical Seminary (Elkhart, Indiana). About 25 people attended the meeting, more Mennonites than Catholics.
Two years later Abbot John Klassen of Saint John's Abbey in Collegeville, Minnesota, offered to host annual conferences at this Benedictine monastery, one of the largest in the world. The standing of Saint John's Abbey in the Catholic community gave the new movement credibility and visibility in the Catholic world, as well as an institutional home.
At the same time, the International Mennonite Catholic Ecumenical Dialogue was taking place, organized by the Mennonite World Conference and the Vatican's Pontifical Council for Promoting Christian Unity. Bridgefolk members recruited a group of theologians to support this effort and have encouraged both Catholics and Mennonites to gather in local settings to discuss the document that resulted from the dialogue. Other members, Mennonite and Catholic, organized two scholarly conferences focusing on the persecution of the Anabaptist martyrs as part of this effort to build bridges between the two traditions. . In 2007, Bridgefolk convened a major conference at the University of Notre Dame in order to reflect upon Called Together to Be Peacemakers, the final report of the international ecumenical dialogue between Mennonites and Catholics.
The overall focus of each of the annual gatherings has been some aspect of spirituality and peacemaking. Bridgefolk has often been described as a community of peace-minded Catholics and sacramentally-minded Mennonites. It has thus been fruitful to explore the gifts of peacemaking and spirituality that have drawn Mennonites and Catholics to the bridge of ecumenical conversation.
"Proceed through friendship," an important bit of wisdom shared early on by the Sant'Egidio Community (an ecumenical lay movement originating in Rome, Italy), has become the guiding rule of the group in all its encounters. What this has meant practically is that Bridgefolk gatherings include many personal stories, provide ample opportunities for dialogue, and always structure presentations in pairs so that one Catholic and one Mennonite has a voice.
After Bridgefolk held three gatherings at Saint John's Abbey (2002-2004), Eastern Mennonite University offered to host the annual conference in 2005.  With that event a new chapter opened in Bridgefolk's history, giving people in local communities the opportunity to participate. During this gathering the entire group worshiped with a local Catholic parish on Saturday evening and then worshiped with a Mennonite congregation on Sunday morning.
Conferences since have alternated between Saint John's Abbey and other areas of the country.  In 2010, Bridgefolk began a series of summer conferences focusing on nine "key practices" of Bridgefolk, which Mennonites and Catholics can fully share.  This summer's conference will be held August 4-7, 2011, at the MCC Welcoming Place in Akron, PA.
More than 200 people have participated in one or more conferences. In addition several local conversations have emerged, resulting in local chapters of the international Bridgefolk movement. Many others have followed Bridgefolk's activities in stories printed in Mennonite and Catholic publications.
Gerald Schlabach serves as Executive Director of Bridgefolk, with Abbey Davis Dupuy and George Dupuy serving as Bridgefolk Coordinators. Current Bridgefolk board members include Abbot John Klassen and Marlene Kropf as co-chairs, along with Darrin Snyder Belousek, Susan Kennel Harrison, Weldon Nisly, Margaret O'Gara, Margaret Pfeil, Mary Schertz, Sr. Theresa Schumacher, OSB, and Br. Aelred Senna, OSB.